Aloha!

Sorry for being strangers! We're busy cracking on with the writing of the new album here in the new Casa Boom (affectionately called 'the Club' from here on in) and it's sounding great. There is the twin-guitar attack of the Ben and the Blade that's making everything sound fresh as well as some great guest appearences lined up. The first two weeks of February will see us down at Pete Mile's studio to write 'the best record of our career' as bands always say. We've got European dates coming in in late February and early March that will be up and out there by the end of the week. For now, we've got Laila's review of the year in her inimitably chirpy style. We've put up two new tour diarys (my tour diary from Japan and Laila's from the States which are both new to online print) which are linked to the big old review below. Enjoy it, here's to a similarly action-packed 2009! We'll be in touch very soon.

January

So, we kicked off the New Year with a brand new web site at
sonicboomsix.co.uk
. We wanted to make a site that was interactive so that fans of the band could really get stuck in and enjoy what we put up there. We started by including a full
DISCOGRAPHY
with full notes and links about the recordings as well as new
GALLERIES
, and links to
INTERVIEWS AND REVIEWS
. But the really exciting bit is that to register as a member all people had to do was sign up, which gave access to a
NEW FORUM
where members could talk all things Boom and anything else they wanted to talk about. We also included a
VAULT
in which you could find the LIVE, RARE, REMIX player which had three unreleased rarities to stream and would be changed every few months for hardcore Boom fans (this is, admittedly, long overdue some new songs!)

January also saw us making our third trip to the Maida Vale studios to record a session for
MIKE DAVIS' RADIO 1 PUNK SHOW
. We recorded 3 songs off our album
ARCADE PERFECT
– Sound of A Revolution, Meanwhile, Back in the Read World and While You Were Sleeping. We also included a cover of The Selector's, 3 Minute Hero.

February

What a month this was! The beginning of February saw us hopping on a plane and going over to, wait for it… Click
HERE
to see our Japanese site. Our record label,
PYROPIT
invited us to do a couple of gigs in Shibuya, Tokyo, to coincide with the release of Arcade Perfect over there. The trip was amazing! We had so much fun when we were there – we did loads of press, TV and radio and saw cardboard cut-outs of ourselves in the Tower Records of Tokyo! It was very surreal! An exclusive Japan-only video for While You Were Sleeping is
HERE
and the tour diary can be found
HERE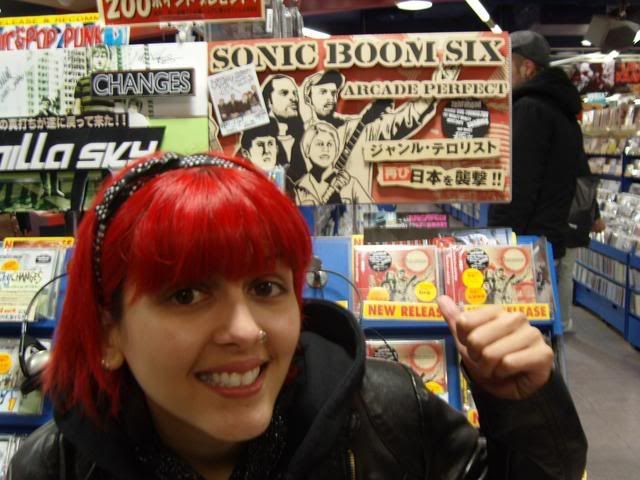 Once we got back to the UK we hit the road with Reel Big Fish and Streetlight Manifesto and what a tour that was… We had 17 days of fun, fun, fun! The whole tour was pretty mental and all the gigs we played were packed, full of over excited people wanting to dance and have a good time from start to finish. I got to share the stage with Reel Big Fish every night, singing the duet
"SHE'S GOT A GIRLFRIEND NOW"
with them!!! One of the most fun tours we've ever done!

March

Unfortunately we weren't doing much to reduce our carbon footprint in March as we jetted off to America for our first trip there. We joined our great friends
THE FLAMING TSUNAMIS
who had come to tour with us in the UK in 2007. We played throughout the East Coast and visited various cities such as
NEW YORK
, Boston, Connecticut and we even found time to visit Niagara Falls and get tattoos. Our album
RUFF GUIDE TO GENRE TERRORISM
hadn't been out very long there so we played a set list which mainly consisted off songs from that album. This took a couple of gigs to get used to as we'd not played some of the songs off there for a year or two! I did a tour diary which you can read
HERE
.

We arrived back to the UK to the release of UNSCENE 4 from Punktastic, which was a compilation of 30 second songs recorded by various bands, including us. You can buy a copy of this opus
HERE
.

We also shot a video when we came back for "Sound of A Revolution" – watch it
HERE
.

April

After a couple of days off to recover from jet lag, we headed to mainland Europe for the first time this year. We spent time in France, Croatia, and Slovenia. We played some cool festivals in Vienna (Wasted Festival) and Holland (Jera on Air). The hospitality in Europe is second to none, especially at festivals and the Holland one sticks out in my mind the most as being one of the most fun days ever! The sun was shining, there was unlimited beer and we got to play (and party) with Strike Anywhere, Madball and Agnostic Front. Good times!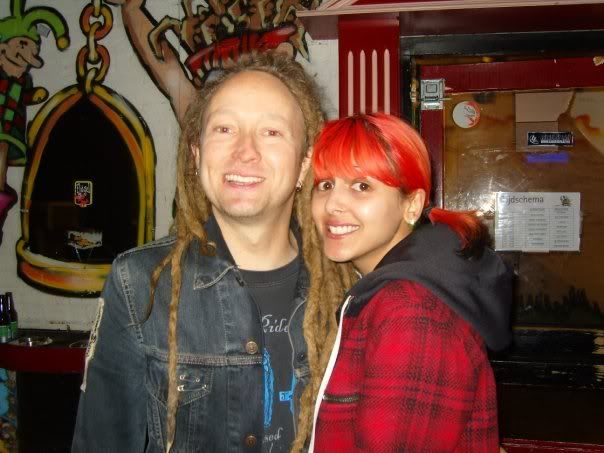 May

This was the month of our UK Rude Awakening Tour. We invited
BIG D AND THE KIDS TABLE
over from Boston to come and play as well as Keighley's
RANDOM HAND
. I think I speak for everyone when I say that this was such a great tour. So many people at the gigs were genuinely excited about the line-up and it was great to see people getting to the gigs early to check out all the bands playing and not just turning up to see the main band. There was a genuine party (all for one) atmosphere, which was seen throughout the whole of the tour.

We re-released
SOUNDS TO CONSUME-CHAMPIONSHIP EDITION
for this tour as it had been deleted for a couple of years. This meant we got to play a load of old songs off it that we'd not played in ages. We really enjoyed it, especially because people had been requesting some of the songs for off it for a while!

June

We set up our own record label,
REBEL ALLIANCE RECORDINGS
in June. As well as releasing future Sonic Boom Six releases and projects, our focus lies with building a diverse roster of alternative and underground music bound together by the gloriously unfashionable belief that music can still be a positive force for change. We believe that having a social conscience and a challenging outlook isn't mutually exclusive with making music that is exciting, fun and unifying.

July

It's festival time again and the summer months are always the most fun! We played festivals in Scotland, Exeter and
GUILDFORD
and then headed off for a whistle stop weekend tour of Europe. We left Manchester (in the van, no planes for this one!) on Thursday evening and headed to the Big Rivers festival in Holland for the Friday. Then it was off to the Czech Republic to play at
MIGHTY SOUNDS FESTIVAL
. We had to be there for Saturday afternoon and then it was straight back to the UK to play with Lagwagon in London on Sunday night! That's dedication to the cause, regardless of where it is, we'll get there by hook or by crook!

August

Rebel Alliance has it's first big release for 2008 in the shape of
THE BABYLON WHACKER'S
debut album,
'HAPPY DAYS WITH…'
. The Babylon Whackers is an all-star UK punky reggae party featuring our friends Jonny One-Lung (ex-Filaments), Babar Luck (ex-King Prawn) and Majah Tunder with guest appearances from members of Suicide Bid and the King Blues. They play one gig this year at Islington Academy in London and you can see a video for that
HERE
!

We have our regular yearly outing to Blackpool to play the Rebellion punk festival where we do our annual acoustic
BABY BOOM
set and a Sonic Boom set.

September

Our creative juices get flowing this month as we begin writing our third album, 'City of Thieves'. There's a change of scene for us as we head off to France to play some gigs and then to spend 2 weeks at our friend, Renaud's house in the south of France. He kindly lends us his house, studio and hospitality for us to write and demo the album. Big up to Renaud and his family!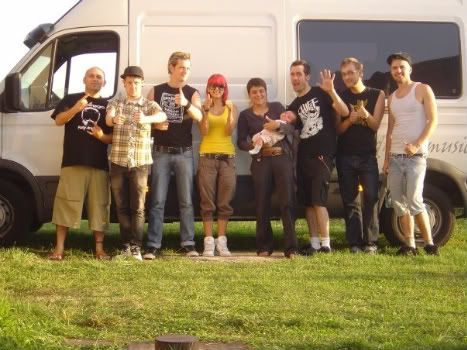 October

Ruff and Ready 2008 is upon us! The idea behind Ruff and Ready is to invite bands to play with us who we know our fans will appreciate. We want people to leave feeling like they've been to a punky reggae party rather than just a gig where they went to see one band. This year was no exception. We invited melodic hardcore purveyors Chief from Liverpool, ska punkers The JB Conspiracy from Guildford and acoustic ska legend Chris Murray from LA. Chris inspired us to do a couple of acoustic in-stores, including one at All Ages Records in London. Check out
HTTP://WWW.MYSPACE.COM/RUFFANDREADYTOUR
for more!

November

We're off to the USA again! This time we get to round the whole of the USA as we are there for 6 weeks. We start off in the East Coast where we visit Connecticut, Boston and New York again. It's so cool to see the crowds growing in these states since we last visited in March. Highlights included playing with Big D and The Kids Table in
BOSTON ON HALLOWEEN
, where we all dressed up and got
INTERVIEWED
. We also caught up with our friends The Toasters in
NEW YORK.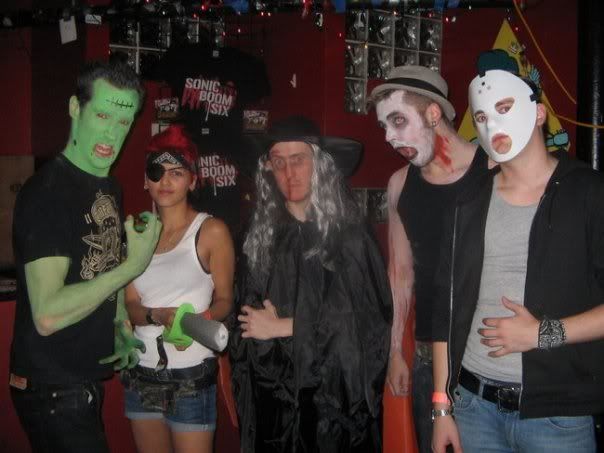 After a brief week on the East Coast, we fly off to LA and play with the Voodoo Glowskulls in Hollywood and get to have a well deserved day off in Beverly Hills. The weather is so different from the East Coast, check us out in shorts!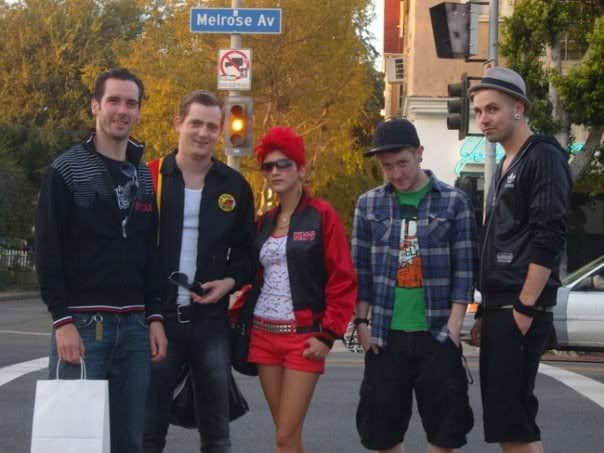 We got to spend the monumental Election day in the Lake Tahoe when Barack Obama won the Presidency. Barney wrote a blog about it whilst we were there and you can read it
HERE
.

For the rest of our trip we drive from LA back to the East Coast and we get to play places like Las Vegas, El Paso, San Antonio, Dallas,
NEW ORLEANS
, Nashville and Miami.

We arrive in Philadelphia for a mini tour with Pilfers and Bomb the Music Industry, it's great to see our friend Coolie Ranx again who featured on our single, '
ALL IN.
'

For a full tour diary check out click
HERE
!

December

One day off after we get back from America and we kick off our Play On tour in the UK! We coincide this with the release of our remix and rarities CD,
'PLAY ON: RARE, REJECTED AND ARCADE PERFECTED.
' Disc 1: Arcade Perfected features remixed versions of the full length album Arcade Perfect and Disc 2: Rare and Rejected features outtakes, live tunes and B-sides.

This means a totally new set list,
NEW MERCHANDISE
and the unveiling of our new guitarist Nick Horne. Eagle eyed fans may have noticed that Nick occasionally pops up and plays trombone and bass for us but now he is a permanent fixture in the band. We're joined on tour by Babar Luck (ex-King Prawn, Suicide Bid, The Babylon Whackers) and London boys, Mouthwash. It was great to come back from America and play a mixture of old and new songs and catch up with familiar friends and faces!

The end of 2008 ended on a high and saw another addition to Rebel Alliance Records in the shape of
RANDOM HAND
, who will be releasing their
ALBUM 'INHALE EXHALE'
in Feb 2009.

So, that's 2008 in kind of a nutshell! 2009 will see us recording and releasing our album as well as hitting the road in the UK, the USA and Europe! Thanks to everyone that came to see us,
BOUGHT ANYTHING
or helped us out in any way – we truly appreciate it!

Laila Boom! x